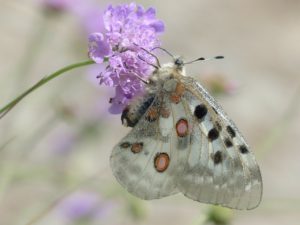 The Color Purple is the title of Alice Walker's well-known novel. It refers to the following line in the book: 
"I think it pisses God off if you walk by the color purple in a field somewhere and don't notice it."
So, people are supposed to please God–in whatever form God takes for them–and God tries to please people by providing things as lovely as the color purple. Even God gets annoyed when people overlook the nice things he does. 
Failing to Notice
It is pretty rude not to notice when someone does something to please you. I'm sure I am not the only one who is guilty of doing just that more often than I care to admit.
In my previous relationship, for example, I didn't notice the "purple" that my ex planted regularly in the form of acts of service–that's his love language. For example, he was a wonderful cook. He always made nice suppers even after long days at school. Sometimes I griped about the time he spent making those meals; I would have preferred a sandwich and some time to talk. But preparing a meal was an expression of love on his part. I regret failing to recognize it as such.
Post-Breakup Acts of Service
His acts of service continued even after we broke up. For example, last year, when my new partner and I were getting ready to leave for the world championships with our horses, my ex dropped by. He'd made us lunch for our trip–huge, gourmet sandwiches, mustard on mine and mayo on my partner's, giant dill pickles, homemade chocolate chip cookies, beautiful, red apples, and napkins all neatly packaged and ready for our journey. "So you guys don't have to rely on gas station food along the way," he said. Our destination was only six hours away. We had enough food to last us for a much longer journey!
I posted about my ex's kindness on my Facebook status that day. There were over 100 likes and a ton of comments. Those were the most likes I'd ever had on a status.A few people thought it was weird that my ex would do such a thing. Most, though, just saw the "purple" in the gesture.
In hindsight, I wish I'd done a better job of "noticing purple" in my previous relationship. Despite the issues that were the cause of the breakup, lots of purple went unnoticed. Luckily, life gives us second chances to get it right.
Second Chances
In my current relationship, I work at noticing and expressing appreciation for the smallest things. "Hey, thanks for emptying the dishwasher" or "I was happy to find the laundry folder when I got home today."My partner and I are committed to avoiding the mistakes we made in our previous relationships. We try hard to stay in tune with what we do when we do it to avoid falling into old patterns. Of course, we fail from time to time. We know, though, that a new relationship just turns into the old one if the partners repeat old behaviors with each other. We work hard so that won't happen. It's worth it, I think.
Habits
Looking for purple becomes a habit when you do it regularly. My partner tells me it makes him feel good when I thank him or praise him for something nice he's done, no matter how small. I think noticing the small things may be as, if not more, important than noticing the grander gestures that occur less often.
This is not the most profound thing anyone has ever written, but it is what's on my mind. Be on the lookout for purple–in other people, in the things they do, and in the world around you. It's there.  Notice what you notice. Appreciate what you see. Tell others. Tell me. It won't cost you anything and it just might cause good things to happen in your life and those of others as well.
As always, thank you for reading. I appreciate you.