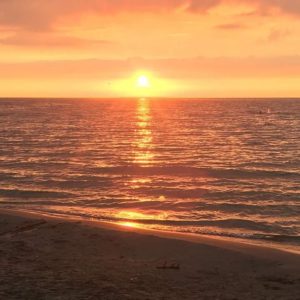 I grew up in a small town, Port Elgin, on the shores of Lake Huron in Ontario, Canada. Legend has it that National Geographic once declared Port Elgin's sunsets as the second best outside of Hawaii. Most people from the town claim this honor though I have yet to meet anyone who has ever laid eyes on the article. It hardly matters, though. The town's sunsets are unbelievably stunning. Even locals turn out in droves on the beach in the summer to stroll on the breakwalls and watch the sunset. I think one should never miss a sunset. It's not like you can open a drawer and pull one out any time you want.
But sunrises…they're pretty special too. I am a morning person and the best part of the morning is watching the sun rise. Lately, my daily routine changed drastically. My significant other (s.o. hereafter) has been away for most of the month staying with one of his sons while his ex-wife was with their youngest child in Mexico at Hope4Cancer, which is an alternative treatment facility. While he's been gone I have been waking up at 3:00–wide eyed and ready to go.
Normally I get up at 4;00 to attend a 5:00 a.m. Crossfit class in town. So getting up early isn't exactly foreign to me. Getting up at 3:00, however, seems a bit ridiculous. Still, there doesn't seem much point in fighting it so I use the time to do things that get lost in the evening or put off when I have tomorrowitis. The floor gets an extra sweep, an extra load of laundry makes its way into the machine, I prep extra thoroughly for my classes, and so on. 
It turns out that I like getting up that early. It feels like finding a few extra hours in the day. The only problem is that I am pooped by 2:00 p.m. That's an easy fix if I remember to go to bed early.
As a person who has lived with depression for some time, I love waking up excited about the day, feeling eager to get out of bed and start living. Sunrises are such fantastic moments of optimism. They're about new beginnings and the unknown and freshness. Getting up super early and witnessing the sunrise with a huge mug of coffee in hand is kind of like having a secret meeting with a friend who shows up each morning to remind me that it's a new day with no mistakes in it yet.
I've missed my s.o. while he's been away. At the same time, I'm grateful that I've had the opportunity to reacquaint myself with the quietness of the "before everyone else is awake" part of the day.
Such opportunities for quiet reflection and solitude are so rare. Where do you find yours?