Several years ago a very traumatic event dropped me to my knees. didn't think I'd ever be able to move forward. "I just don't know how to go forward," I said to my good friend Erica. (Yes, the same Erica from my last blog post about not settling for a life you don't love!) "I just don't know how to move on" I explained. "So don't" she replied. "Just step to the side."
Step to the side? Really? That wasn't an option I'd even considered. No one "steps to the side" in a crisis. Isn't that against the rules? You can't just step to the side when your life falls to pieces. Nope. You've got to move forward. You have to suck it up. Pick yourself up. Dust yourself off. Move forward. Forget about it. "Just get back to your normal routine" proclaimed well-meaning friends and associates who barely knew me, let alone what I needed to do. No matter that I was writhing in pain, paralyzed, barely able to breathe. Forget that I could barely get out of bed let alone dust off the residue of the trauma that had occurred so quickly. "Just move forward," the world said, "Keep going forward."
Granted, there are people for whom "moving on" is exactly what they need to do in the aftermath of a crisis or traumatic event. I was not one of those people. I wasn't sure about a lot in those first weeks and months. I was sure, however, that "moving on" wasn't happening any time soon. Call it a lack of resilience, call it weakness, call it whatever you want, but forward motion was not something I was capable of at that time. I knew it even if no one else did.
Stepping to the side, however, was something I could do. In fact, it was exactly what I needed to do. So, it was exactly what I did.
What Happened When I Stepped Aside
I have the luxury of a job from which I was able to take a leave of absence, which I did. Although I wasn't sure about a whole of things at that time, I was sure about what I needed to do in the way of self-care. At first, there were days when I just retreated and gave myself permission to feel nothing…or everything. I just let myself "be" whatever I needed to be in any given moment.
At one point, I took my dog Reese and the two of us embarked on a road trip. We visited a friend who lives in Iowa. We stopped at parks in towns that were off the beaten track as often as we wanted. We detoured to places I'd never heard of just because we could. Somewhere along the way, I remembered how to laugh.
There was something restorative about watching the obese, 11-year-old, labrador retriever who had adopted me right around the time of my crisis as she romped like a puppy in the autumn leaves in parks across several states. Through her antics, beautiful Reese invited me to remember what joy looks like. She made me believe that one day I would know that feeling again.
Gradually, the idea of moving forward seemed like a possibility. When I was ready, I stepped away from the side and back into my life.
Had I not taken Erica's advice and given myself permission to "step aside" I am not sure I would have survived that terrible ordeal. I'm not trying to be melodramatic. It was awful and I wasn't feeling particularly tough. For me, stepping aside was a life saver. I have no regrets.
Going Forward
Thankfully, not everyone has huge life crises that cause them to step aside from their lives for weeks or months at a time. But we all have moments when we are at our wits' ends and feel like we cannot "go forward" for one more minute. Parents have moments when their children have driven them to the edge. Employees have moments when the workload is too much or a boss or colleagues have driven them to the point of feeling crazy. How much better might our days be if we would just allow ourselves to "step aside" in such moments, if only for five minutes?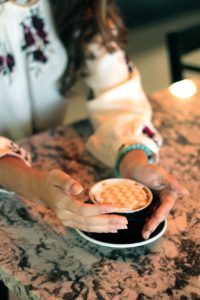 How much more focused and calm would we be if, instead of pushing through the craziness to our own and others' detriment, we allowed ourselves to pause, if only briefly? How much happier and more grounded would we be if we allowed ourselves space to, say, sit quietly and meditate over a cup of coffee before moving forward? How much better equipped might we be to tackle the tough stuff if we gave ourselves and others permission to "step aside" from time to time?
This is hardly an original idea and many practice it regularly in different ways. However, the merit of "stepping aside" may not be in the forefront of our minds often enough, given the pace at which we live our lives today. Think about it. To what extent are you aware of your own need to step aside from time to time and do you honor that need? If so, how do you do that? If not, why not? What form does your self-care take? Please share.
As always, thank you for reading. I appreciate you.