"Looking back on the memory of the dance we shared…"
Garth Brooks' much-loved song "The Dance" reminds us that the best things in life sometimes lead to painful endings. The song is about a person who realizes what he would have had to miss to avoid the pain often associated with the end of a relationship.
Today, the song was on my mind for other reasons. This morning, my s.o. Alan's beloved Australian Shepherd/Border Collie cross, Topper, who'd worked his way into my heart to a degree I never imagined possible, crossed the rainbow bridge. He was 14, give or take.
"For a moment, all the world was right…"
Topper lived a good life. He spent many days working cattle with Alan. When the cattle work became less frequent as Alan's attention became more focused on horses, Topper devoted himself to running around the outside of the round pen in the opposite direction of whatever horse was being worked. He'd run like the wind in his circles, determined to keep those horses in line.
In recent years, Topper ran less and trotted more, but still, he circled. Just a couple of weeks ago, I saw him walking very slowly in the opposite direction of the horse Alan was working in the round pen.
Topper had a fierce sense of duty. If a young horse got out of line with Alan on his back, Topper would march himself into the arena and stand there, staring at that horse, as if to say, "Don't make me come out there."
Once, Alan had a wreck on a young horse in the round pen. The steel bar was dented where Alan's head hit it. Somehow, he managed to roll under the fence and had the wherewithal to call me for help. I found Alan, bloody, dirty, and dazed, with Topper sitting right beside him.
"Holding you, I had everything…"
In recent days, Reese, my white lab, and Baxter, the boxer who thinks he is mine, but is not, took turns watching over Topper as he slept the deep sleep of the aged dog. Sometimes, I'd find them sleeping beside Topper on one of the dog beds. Reese would position herself either on the bed with him or on a bed adjacent to his. Often, we saw her with her head on Topper's bed, or sometimes just a paw. Baxter, typically a boisterous boxer dog, who loved to lick Topper's face rigorously to get him to play, changed his approach. He still licked, but ever so gently. Dogs are amazing.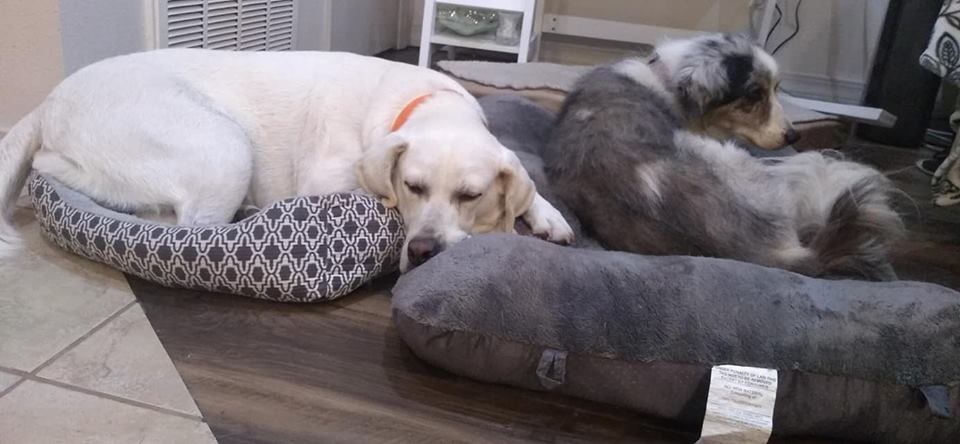 "If I'd only known…I might have changed it all…"
By last night, we knew for sure that it was time. Topper's heart had been failing for a while, and we'd been managing it with medication. By last night, though, he hadn't eaten in nearly a week. His coat was rough and ugly. He seemed disoriented. The many drugs he was on were no longer giving him any quality of life.
This morning we rose early to take Topper for one last ride. I'm sure he knew what was happening because he resisted a little as we led him toward the truck. Reese tried to stop us from leaving by getting underfoot. They knew. We all knew. It sucked.
The vet agreed with us that it was time. Alan and I kept our hands on Topper's back as Dr. Alexander shaved his front leg and gently inserted the needle. Lauren, the vet tech, cradled Topper's head. He leaned into her. He's always loved having his head held and stroked. I watched for his breathing to stop as Dr. A. started the injection; Topper was gone before the injection was complete.
Lauren gently laid Topper's head on his front paws. I kissed the top of his head and closed his eyes.
Dr. Alexander took out his stethoscope and made sure Topper's heart had fully stopped. He positioned the scope in several places. "He's breathing just fine now," he said softly, "I bet he's running and playing with all the other dogs." "Maybe," I offered, "there's a blond-headed boy with a quirky cowlick, playing with him." "And Roper too," Alan added, referring to the also-beloved Australian shepherd who had been Topper's predecessor.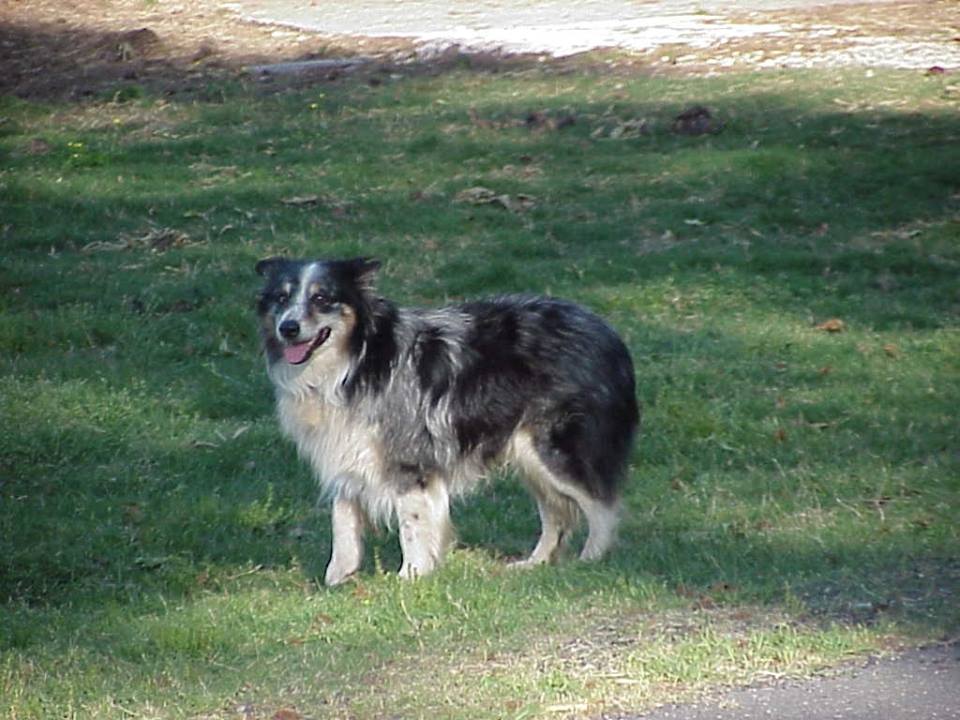 "I'm glad I didn't know the way it all would end, the way it all would go…"
This was a year of loss for Alan. Greater loss than any parent should have to endure. Four months ago today, his youngest son, Coleson, turned 17. He died five days later after a valiant battle with cancer.
In June, Midnight, Alan's older-than-dirt, black Welsh pony passed while we were at the World show. He went down one night, rallied for a couple of days, and then died.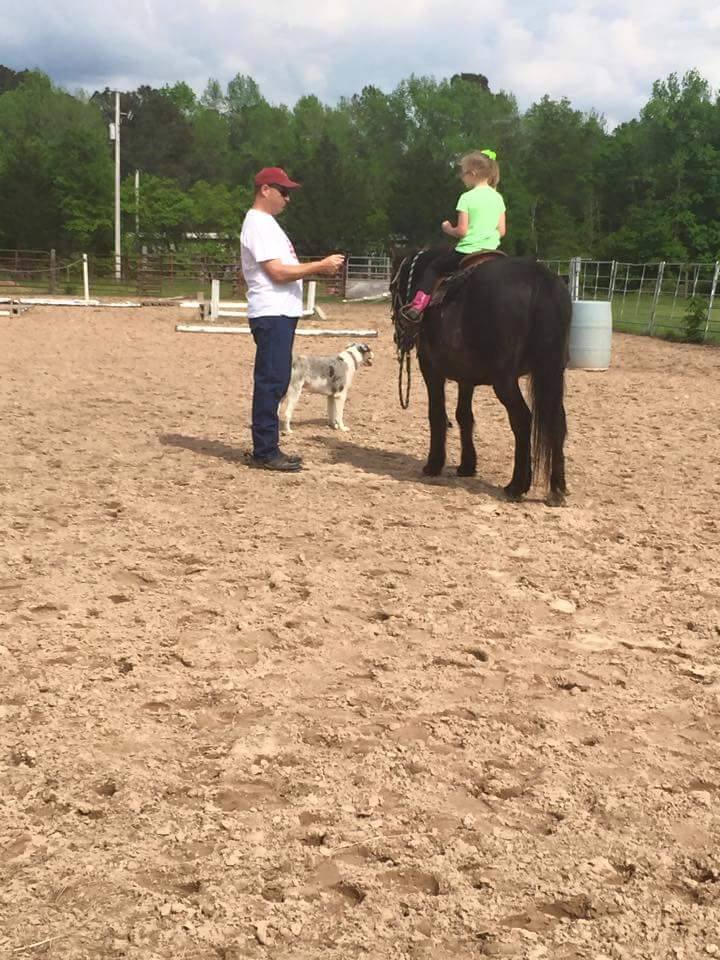 Later, Alan learned that a family friend, who didn't even know Midnight had existed, dreamed that Coleson was in heaven, feeding a dark blue pony. Alan shared that story with Dr. Alexander and Lauren; we all wondered if anyone would dream about Coleson and a dog. "Let me know if they do," Dr. Alexander said as we gave Topper a last kiss and pat.
In a few weeks, we will get Topper back. I suggested we sprinkle his ashes around the round pen. Alan thinks maybe he will take Topper to Coleson's resting place. That seems right, I think. Dogs and their boys belong together.
"Life is better left to chance…"
Whenever an animal dies, I find myself thinking about my first American Paint horse, Special Trouble. I bought Trouble in the spring of 1999. Eight months later, he died. A necropsy revealed that he'd had a 6-inch ulcer in his stomach, which ruptured.
At a show a few months later, an older gentleman, Mr. Lawrence Kupka, approached me. He'd heard about Trouble's passing. In his gruff voice, thick with a Ukrainian accent, Mr. Kupka said only this, "I haven't lost a chicken in 20 years. But I haven't owned any for 30." Then, he turned and walked away.
It took a minute for the meaning of his words to register, but I've never forgotten them. What Mr. Kupka meant, of course, was that the only way not to experience the pain of losing a horse, or a chicken as it were, is never to own one. We can miss the pain, he was telling me, but only if we are also willing to miss the dance.
As hard as it is losing our pets, I cannot imagine a life without them. I will miss Topper terribly. As hard and sad as was today, though, I'm so thankful to have had this lovely dog as a "dance partner."
Rest in peace, sweet boy.
Topper Shaw c2004–2018
Thank you for reading. I appreciate you.